NEWS from 2013/14
11 DECEMBER 2014
Wuthering Heights bootleg album
Strange news for you today. Several websites, including the esteemed "Encyclopaedia Metallum" are now listing a hitherto unknown album called "Wuthering Heights´ Greatest Hits". Some are even making the album available for download. The trouble is, the album does not exist – or if it does, it is an unofficial release, a bootleg!

The only information given about the album is that it was supposedly released in 2011 by Scarlet Records, it includes 15 tracks spanning all the band´s albums, it has an (hmm…) unsophisticated cover but (surprise!) no catalogue number.

Besides the fact that we have never heard of it before, some further proof of the album´s illicit nature:
 - The album is shown with a Japanese obi-strip saying it is part of the "Hard & Heavy Papersleeve Collection"-series. But this series (which include some releases by Dio and The Tygers of Pan Tang) is released by Vertigo Records, with which WH have never been affiliated.
- If the album is a Japanese release, it would not be released by Scarlet Records, which were our record company for Europe. 
- The old WH logo seems to be cut-and-pasted into the obi-strip, while the cover itself has a logo in a font that the band has never used.
- The subtitles have been used for the songs from the "Longing For The Woods"-trilogy. The band has never used the subtitles alone, but always the full songtitles. 
- No single record company outside the U.S. has ever had the rights to songs from all WH albums.

So there it is: the first WH bootleg!

So where does this come from? We do not really believe that some pirate record company would bother to master, press and sell an album like this. Perhaps some eager fan has felt the world needed this kind of record and made up the cover etc. for his or her own amusement. Fair enough. But things spread quickly on the internet, often without sufficient research. Which leaves us with the fact that someone has actually put together this tracklist and offered it as a download. This is not OK.

We will try to have the "album" removed from various websites if we can. And we hope our fans will help us by not spreading it any further. But for now enjoy this picture of the WH album that never was. How weird the world has become…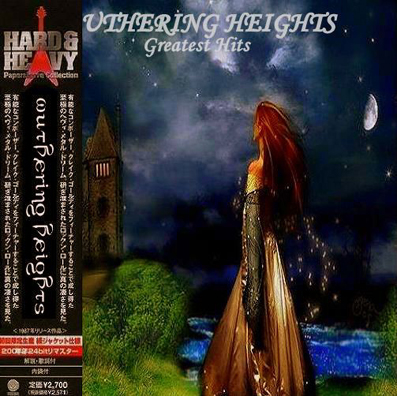 16 NOVEMBER 2014
The discography section has been updated with two new samplers. And we´re also researching into what appears to be our first unauthorized release! More news to follow on this.
19 SEPTEMBER 2014
Erik comments on Scottish independence at Erik´s Corner.

22 AUGUST 2014
The band members section has been updated with the release of Teddy´s "lost" album with The Hidden. Originally recorded in 2000 it now finally sees the light of day as part of Divebomb Records' Bootcamp series.
01 AUGUST 2014
Wuthering Heights leave Intromental Management

After seventeen years together Wuthering Heights and Intromental Management have decided to part ways.

Wuthering Heights were among the very first signings on Intromental Management and the band and management really grew up together through sometimes difficult circumstances - both for the band and for metal music in general. Through it all the management has been unwavering in its support of Erik´s artistic vision and the strong personal friendships always kept any disagreements on procedure from getting out of hand.

But as fans and friends of the band will know, health conditions have kept the band from recording or performing for several years. Since this is not likely to change soon, it has been decided that it will be simpler for all to go our separate ways, as there is really not much for the management to do anyway.

There are still a few legal loose ends that the management will help trying to sort out, but other than that all correspondence should from now go to:

       wh@wuthering-heights.dk

which will be your direct contact to the band.

  - Wuthering Heights
29 JULY 2014
Check out Erik´s effects-rig at Erik´s Corner.

23 JUNE 2014
The online magazine "Paste" has an interesting article on Emily Brontë, the author of Wuthering Heights – the book. It features input from our very own Erik Ravn as well as the mighty Tom Gabriel Warrior – how about that! 
Read it here.
03 JUNE 2014
A few updates on the band members´ personal discographies.
07 APRIL 2014
New at Erik's Corner: Guitarist Top 10!



06 MARCH 2014
Missing live-CD with "The Shadow Cabinet" (for our fans in the U.S.)
It has come to our knowledge that some of you didn´t get the bonus live-CD as intended.
We were contacted by one of our fans, who wondered why there was no bonus live-CD included with his copy of "The Shadow Cabinet", while the cover clearly stated that this should be a double CD.
We have looked into the matter, and it appears that only the first 500 copies had the extra CD included. To our knowledge, this was never part of the deal with our now former record label The Laser´s Edge/Sensory. But what´s even worse is that it was deemed unnecessary (read: unprofitable) to change the cover.
We hope that you know that this was never the band´s intention and that we are as surprised and bitter about this as you are likely to be, if you have bought a double CD and gotten only half the package. Given the size of our record sales, we hope the problem isn´t too big. But, if this has happened to you, you are welcome to contact us and we will do what´s in our power to supply you with the extra CD.
- Wuthering Heights
27 FEBRUARY 2014
Contracts with The Laser´s Edge/Sensory expire.
More record label news for you. After many years of cooperation, Wuthering Heights´ contracts with American record label The Laser´s Edge/Sensory have expired, except regarding the album "Salt".
We have chosen not to renew any remaining deals, as we are trying to secure that all rights to our music will be safe in our own hands in the future.  We hope that we will at some point be able to present our own releases of the band´s musical legacy to you, but this of course involves overcoming certain obstacles both financially and practically.
So, as of now, the only remaining record deals still in effect are our U.S. and Japan deals regarding our latest album "Salt" (That is: The Laser´s Edge/Sensory for the U.S. and Marquee/Avalon for Japan). For all other albums and territories there are currently no official labels or distributors.
Again, our apologies to our fans for the inconvenience this may cause, but we hope for your understanding. We have to do this in order to secure our music for the future. And, of course there are still albums out there. Well stocked metal shops and online retailers may still be able to supply the albums. So start hunting – it´s worth it!
- Wuthering Heights
25 FEBRUARY 2014
Wuthering Heights part way with Scarlet Records.
This is actually old news, but since the website hasn´t been working properly, you get it here anyway.
We have decided to cancel our contract with our European record label Scarlet Records, as they have failed to fulfill their obligations, i.e. paying royalties.
This means, that there is currently no European distributor of the album "Salt". Our apologies to our fans for the inconvenience this may cause.
- Wuthering Heights
18 FEBRUARY 2014
Article about "The Shadow Cabinet".
Hi guys!
Our good friend Robin from Sweden has published an online article about "The Shadow Cabinet" including a great review and an interview with your truly. Check it out here:

- Erik
08 FEBRUARY 2014
There are still a few loose ends on the new website. We are working on it :-)
- the WH web dept.
07 FEBRUARY 2014

Greetings!
Welcome to the new site of your favorite metal minstrels. It´s taken us way too long, but here we are!
We´ve rebuilt the whole thing from scratch, and it should contain everything you want to know about the band (and more…). There are probably still a few loose ends, but please bear with us as we work to fix the last bits.

We hope this new website will serve to unite fans around the globe and to protect the legacy of the mighty Wuthering Heights!
- the WH web dept.
---